St. Peter's Evangelical Lutheran Church Statement of Mission:
Christ is the rock on which St. Peter's is built. We are strengthened through caring and grow through sharing the grace and love of God.
-Adopted by the congregation, April 13, 2003
Visitors…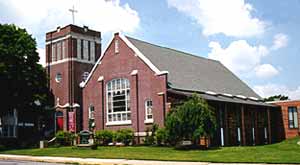 If you are looking for a church to call home, please consider joining our Christian fellowship, where we seek to help each other grow in faith, in love, and in service.
All are welcome at St. Peter's!
If you wish to become a member of St. Peter's, please phone the church office at the number below.
Rev. Dr. Elizabeth Langensiepen- pastor@stpetersallentown.com
Parish Secretary, Debra Larison – churchoffice@stpetersallentown.com
1933 Hanover Ave.
Allentown, PA 18109
(610)-432-8762
Weekly Sunday Services:
September through May
8:00AM and 10:45AM
Services alternate between Service of Holy Communion and Service of the Word on a weekly basis.
Sunday Church School for ALL ages at 9:15AM
Summer Schedule
First Sunday of June through Labor Day 9:15 AM
For a complete listing of activities, see our Calendar page.
St. Peter's is handicapped-accessible!
Ramp entrance
Elevator
Handicapped-accessible restrooms
Large-print worship materials
Meeting Rooms and Gym Rentals are Available
Call the Church Office, 610-432-8762, for more information.
2019 Commitment Card
If you haven't submitted your 2018 Commitment Card, there's still time. The year is just beginning, and St. Peter's needs your support to continue serving the congregation and the surrounding community.
Download the card, fill it in and mail it to the church office or bring it with you on Sunday!